Community Minibuses
Who can use the scheme?
Many community groups organise trips that need a minibus. Unfortunately some members are unable to take part because they need to use a wheelchair or need a vehicle with better accessibility.
The scheme is intended for a variety of groups and clubs which aim to improve the quality of life for people with disabilities or frail older people in our community.
We operate this service across Mid Devon to enable local voluntary community groups to improve access to facilities, shopping centres, leisure amenities or outings.
What is available?
We have a selection of minibuses and MPVs.
All of our minibuses have a tail lift or a ramp and safety equipment to ensure passengers are carried in comfort. Each Minibus has a maximum capacity of 15 seats some of which will need to be removed to accommodate wheelchairs. The MPVs have 3 – 6 seats and can carry a wheelchair is safety and comfort.
When?
Most of our vehicles are used Monday to Friday to undertake our charity's activities. Each vehicle can be hired at weekends and most evenings. If you are seeking a day time hire please contact us and we will do our best to accommodate.
How much?
Charges start from £35 and a full day's hire would cost £60 (covering up to 35 miles) additional mileage is charges at £1 per mile. A half-day charge can be negotiated. A non-refundable 50% deposit must be paid 14 days prior to the journey taking place, for the remained groups are invoiced after the journey and payment should be made within 14 days.
Charges are reviewed annually in June.
All prices are exclusive of VAT.
Drivers
There are three options available
We can provide a driver for £10 per hour.
You can supply your own driver (drivers must be pre-approved by ourselves).
We can offer the request to one of our minibus volunteers.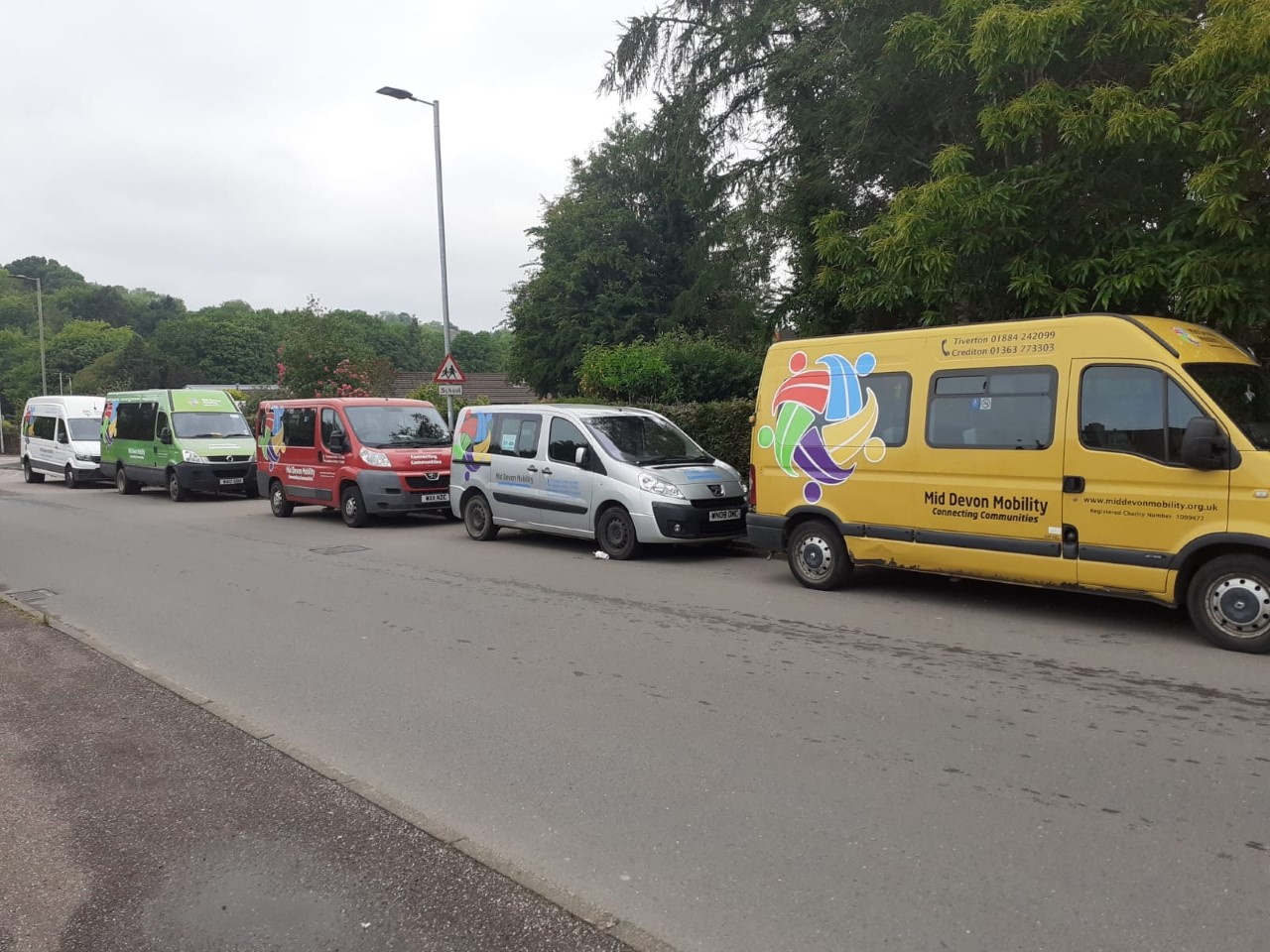 How to apply
Call us on 01884 242099, Monday to Friday 9am to 4pm. Please try to give at least 48 hours notice, or feel free to email us:
Tiverton Area        mel@middevonmobility.org.uk
Crediton area       sarah@middevonmobility.org.uk
Make detailed booking arrangements including: date, start/finish times, pick-up points, destination, number of passengers, number, make and model of any wheelchairs.
The vehicles are required to be left in a clean and tidy state after the hire. This is NOT the responsibility of a volunteer driver.
ANY defect on the vehicle or incident in which the vehicle has been involved must be reported to us within 48 hours.
Groups hiring our vehicles are liable for the insurance excess of £150 in the event of an incident regardless of blame. To reduce the burden on individual groups a contribution of £2 per hire is requested to build up a fund to assist with the remained of the excess.